Picker's Supply Presents
Fredericksburg Songwriters' Showcase
A Monthly Concert Series Featuring Original Acoustic Music
Friday, June 27, 1997, 8 pm
This Month's Songwriters ...
| | | | |
| --- | --- | --- | --- |
| | | | |
| Joe Carlson | Cathy Horner | Jesse Paledofsky | Bill Parsons |
Picker's Supply Concert hall
902 Caroline St., Fredericksburg, VA (entrance in alley around back)
Admission $5.00
---
A longtime resident of Fredericksburg, Joe Carlson is just back from the Kerrville Folk Festival in Texas where he refueled his songwriting muse. Besides appearing at a variety of summer festivals and showcases in the metro DC area, Joe will be performing locally on a regular basis at Einstein Brothers Bagels. He has just released "Hurricane" a five song cassette of his latest musical efforts.

Cathy Horner made her local debut last May at the Pickers Supply Showcase. Being relatively new to the area, she has since enjoyed making new friends by performing locally. She really appreciates the response she has been getting. Her current focus is on honing her playing & writing skills on primarily fingerstyle acoustic instrumentals & lyrical songs. She strives to continually expand her musical abilities by writing and practicing different and challenging pieces. Other activities that Cathy's professionally involved with include giving group & private guitar instruction, teaching TAI CHI, and making crafts that she sells at an antique/gift shop. She also enjoys home decorating, gardening, wildlife, surfing the Web and taking care of her husband & pets.


Jesse Paledofsky has played his original music in both the Detroit and the Washington, DC area. He's opened for Bob Franke and Lee Murdoch. He's played on the Hudson River Sloop Clearwater with Pete Seeger. He was the proprietor of the "Compared to What" Coffeehouse in Detroit. Performing Songwriter magazine credits him with bringing "the house to its feet with cheers and applause" in North Carolina with his song I've Got the Swannanoa Gathering Sleep Deprivation Blues.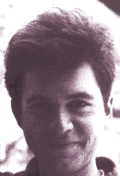 "To be hopeful without being trite or naive. That's the goal." So says DC -based singer-songwriter Bill Parsons. Parsons, age 29, is a four time WAMMIE (Washington Area Music Award) nominee who performed 125 dates between Maine and Colorado last year -- including appearances at the Birchmere, Club Passim, Eddies Attic, the Bluebird Cafe, the Rocky Mountain Folk Festival, the Austin Acoustic Music Festival and three shows at the 1996 Olympic Games in Atlanta. The Washington Post describes his CD, Unskilled Labor, as "clever and touching". The New York Times calls Bill "an emerging voice on the east coast folk music scene."

---
What's up next --

The July 25 show includes Mary Flower (mark your calendars for this one!), Damion
Wolfe, Bob Gramann, and Sara Landymore. Mary Flower is an outstanding blues artist.
Sara is at the center of the music scene in Northern Virginia. In addition to
performing in her unique style, she is very supportive of other musicians in the
area. This will be an exciting show.

The August 29 show features Todd Cumpston, Buddy Mondlock (The Kid), Carol Elliot,
and Abby Bardi.

---
For more information call (703) 373-3624 or send e-mail to Bob Gramann at bobgramann@interserf.net.
Songwriters interested in performing may send tape and promo to:

Bob Gramman
122 Laurel Avenue
Fredericksburg VA 22408

Want to get e-mail announcements about Fredericksburg Songwriters' Showcase and Bob Gramman's scheduled appearances? Send e-mail to Bob at bobgramann@interserf.net.
---
Links to other Songwriters Showcase Web pages
Sites on the WWW with links to Federicksburg Songwriter's Showcase (Thanks!)
URL for this page: http://www.mwc.edu/ernie/songwrite.html
Last Time I changed anything on this page: Friday, June 6, 1997
Page put together (with info & pics from Bob) by Ernest Ackermann.

Send rants/rave to above mentioned Ackermann at ernie@mwc.edu
FROM the fortune list ...
There are some people that if they don't know, you can't tell them. - Louis Armstrong