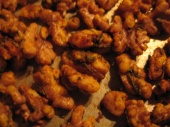 We've used this recipe many times. The resuts are good , good for you, and easy to prepare. We always use fresh rosemary rather than dried beecuase we have had rosemary growing out of our front door for many years.
The recipe comes from Herbs Health & Cookery, by Clyde Loewenfeld & Philippa Black, 1970 ( We bought it then for 95 cents.)
Ingredients:
1 Tablespoon Melted Butter
1 teaspoon crumbled dry rosemary or 1 Tablespoon fresh rosemary
1/2 teaspoon salt
1/4 teaspoon paprika
1 cup walnut halves
Method:
Mix together the melted butter, rosemary, salt, and paprika with the walnuts.
Pour into a shallow pan, spreading the nuts in a single layer.
Roast until richly brown in a moderate oven (350), shaking occasionally, for about 10 or 15 minutes.
Serve hot, as an appetizer. May be reheated.
—
U.S. Confirmed Deaths
Reported Deaths:
4197
Confirmed Deaths:
4193
Pending Confirmation:
4
DoD Confirmation List