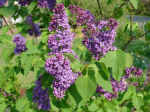 A Place to Bury Strangers
The sound system at the Bonnaroo main stage makes basic guitar chords sound like atom bombs, which means that it'll be a tragically wasted opportunity if A Place to Bury Strangers doesn't headline next year.
Guide to Green Vehicles,  Wordle, and inSuggest
Use this guide to choose the cleanest and most fuel-efficient vehicle that meets your needs. Low emissions and good fuel economy are both important for the environment.

information on mileage, emmissions, true cost to own

Wordle is a toy for generating "word clouds" from text that you provide. The clouds give greater prominence to words that appear more frequently in the source text. You can tweak your clouds with different fonts, layouts, and color schemes.