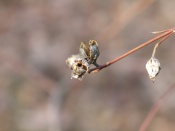 At the 2007 EG conference, Kevin Kelly shares a fun stat: The World Wide Web, as we know it, is only 5,000 days old. Now, Kelly asks, how can we predict what's coming in the next 5,000 days?

This course is meant to introduce you to computer science not as the mundane activity of computer programming, but as a branch of mathematics. If you have studied `computer science' in high school, you're about to experience something rather different. If you've never studied high school computer science, maybe you're better off.
A Place to Bury Strangers
A Place to Bury Strangers (a vaguely familiar mix of early Sisters/Joy Division elements, minus the clever lyrics), who looked very odd with their minimal equipment and being squeezed into the center of the stage.

New York trio A Place to Bury Strangers opened up, playing for a little over a half hour to a disinterested crowd that was still slowly filing in. For only three guys they had a big sound, but a big arena was not really the place to appreciate their dense, feedback-filled rock.