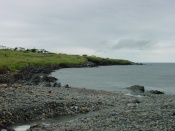 How much electricity do computers use?

While my feeling for Python is not exactly love, it is pretty close. I am not a professional developer. So I dabble in Python a lot. It allows me to do a few nifty things with very little learning.

Bruce Eckel talks with Bill Venners about how Python's minimal finger typing allows programmers to focus on the task, not the tool, generating a productivity that makes more projects feasible.