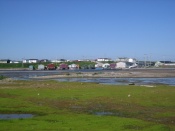 Half Hour Hacks 

For an open-ended project in my Computer Science course, I wrote a program which will take any regular expression as an input and generate a NFA for recognizing that language. It can display this NFA graphically as well as generate Prolog code for simulating it and using it to match strings. (So, if you have Prolog, you could use this as an implementation of regular expressions.)

The New York noise-rockers will kick off the tour in Birmingham on November 29, finishing up at the London ICA on December 8.

New York based shoegazers A Place To Bury Strangers have announced some tour dates in the UK and Ireland. The band will be releasing a new version of their debut in the UK on November 2. The album will be remastered and feature new track as well. A single will also be released in the UK on October 22 titled 'I Know I'll See You'. The tour dates are below.

New York rockers, A Place To Bury Strangers have announced a U.K tour to coincide with the re-release of their self-titled debut album.

A Place to Bury Strangers: with Sian Alice Group and 800Beloved, 8 p.m. Sept. 20. Magic Stick, $10.