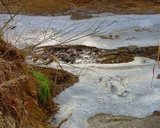 True to form, guitarist/vocalist Oliver Ackerman performed his signature de-stringing and swinging of his guitar at the end of the set. What makes the band particularly unique, though, is drummer Jay Spruce's ability to accompany the other instruments' feedback. For the guitar and bass throughout much of the songs, not a lot is going on. But, Spruce finds rhythm where there should be none and unearths nuances in the noise. As a trio, the band are keenly attuned to each other's effects-laden improvisations—which are far more enjoyable when the listener's ears are safely stuffed with hot pink plugs.

She looks up and Oliver is staring at her, right at her with his enormous blue beacons beaming through her skull, and then the skull of the next person and the next. Is he thanking us? she wonders but he looks so somber, almost furious but more like concentrating desperately to push an idea out of his head into our minds and finally when he turns his back and switches the machine back on it is pure antimusic coming out of the amps, white shit, no soul and no mode and no end, just chaos with a broken backbeat

Underneath the bombastic sounds of Oliver Ackerman's homemade effects pedals, A Place to Bury Strangers writes honest-to-goodness pop songs in the vein of New Order and The Jesus and Mary Chain. The band both celebrates and subverts its danceable rock with layers upon layers of My Bloody Valentine-style white noise, without sounding anything like their influences.

It is Ackerman's understanding of the physical chemistry and specific design of his pedals transforms the band's sound completely as he sets out to make the most brazenly beautiful distortion and muffled, foggy and authentic layers of shoegazer goodness that places the band in a category above other bands with the same intentions. Some songs hint at the darkness that creeps in while you listen to bands like The Knife and even Depeche Mode or The Cure.