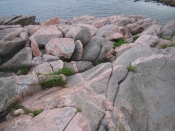 The Place To Bury Strangers dudes put on what I imagine would be their own wet-dream shows.

This is a great offering from Death By Audio. Not only does it look cool, but the design also matches the concept. The Robot is an effects box with an old school pitch-shifting chip harvested from robot toys up in its guts.

On the surface, the new wave of Brooklyn bands had little in common: there was the Spectorish girl-group punk of the Vivian Girls and the narcotic reverb-and-feedback of Crystal Stilts and A Place to Bury Strangers.