A three night stop in Bergen, Norway was part of our trip to Norway, England, Wales, and Iceland from April 28 – May 28. While there we stayed at Augustin Hotel. Augustin is a nice hotel with very nice art in the rooms and the hallways and public facilities. Coffee and tea is available each afternoon in the lobby and DIY Norwegian waffles were available one afternoon.
Our room, 572, was cl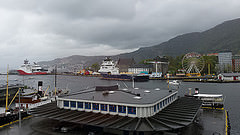 assified a standard double. Not too large or fancy but we had a great view of the harbor. Back to eating — the breakfast buffet at the hotel was filled with lots of choices of very good food including scrambled or boiled eggs, smoked salmon, three types of herring, vegetables, juices, croissants (plain and chocolate), a variety of breads and rolls, fruits, coffee and tea and milk and yogurt, and so on.
Restaurants we visited were
Pygmalion Coffee House and Gallery
Pingvenin  – had lunch there twice. Great soup and herring salad
Naboen – we ate in the pub and the food is best described as decent pub food
Munken Bistro – our absolute favorite! Had dinner there twice. Outstanding! One of the best places we ate on our trip. had wonderful watermelon gazpacho, mussel & avocado salad, chicken 'lasagne', and other dishes. Â Reservations necessary. Family run. Mom, from Peru, is the chef and the others are Norwegian.