Several recipes that we came to mind and some to palate at the beginning of the summer.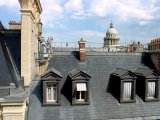 Zesty Cilantro Lime Roasted Chicken | Food Renegade


Chicken from pastured hens is split, marinated in a blend of cilantro and lime, and oven roasted to create this flavorful dish shared with us by Megan Keatley of Health-Bent. A very easy way to use cilantro to make soem great tasting chicken.

Nikki's Cilantro Cornbread

A very good recipe for cornbread. we've been making this with the cornmeal we got at the mill at Babcock State Park, WV.