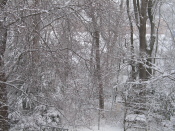 Surfing recipes I found good recipe for ricotta pancakes: Sunday Brunch: Ricotta Pancakes, from the excellent blog Serious Eats.
Great! Added toasted pecans (broken into pieces), a pear, and a cup of blueberries. Also added more baking powder and used a mixture of corn, oat, and wheat flours.
We watched I'm Not There last night. It's an excellent movie. Great scenes and acting. We've been listening to my Dylan playlist on my iPod all morning.