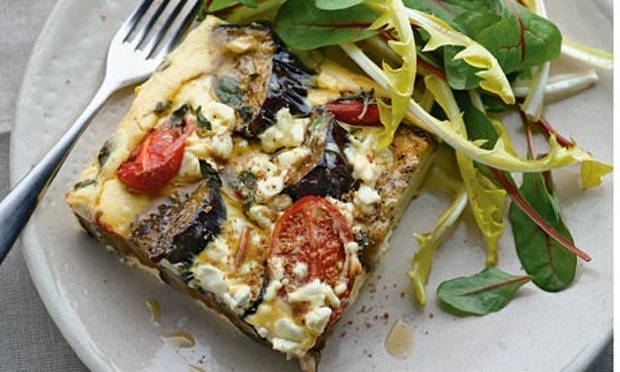 After requesting Yotam Ottolenghi's book Plenty More: Vibrant Vegetable Cooking from London's Ottolenghi
 I felt compelled to find a recipe and cook it. Since it is early July there are lots of eggplant available at our local farmers market, so I settled on Eggplant Cheesecake. His recipe is available online at Yotam Ottolenghi's aubergine 'cheesecake ' recipe. I made a few changes and the result ahs received rave reviews here. Here is my version of this great dish.
Preheat oven to 400.
Butter a 9 inch springform pan. Grind about a half cup of walnuts fine and coatd the buttered portion of the pan with them.
Using about 1 1/2 pounds of eggplant, peel the eggplant and cut into 3/4 inch slices so you have a collection of rounds.
Put the eggplant on a baking sheet coated with parchment paper. Brush or spoon 1/4 cup of olive oil on the eggplant. It is important that the oil soaks in and that you use it all. Sprinkle with 1/4 tsp of salt and several grinds of black pepper. Bake for 20 – 30 minutes making sure the eggplant slices are tender and have a bit of a crust on top. Cool.
Set heat to 325. Mix 5 oz. Feta cheese, 5 oz ricotta, 3 eggs, 1/4 cup cream, and some pepper until smooth. I used a whisk.
Put the eggplant slices in the baking pan, layering them or standing them up. Add 1 cup of halved tomatoes, putting some of them under  the eggplant slices. sprinkle about 1/4 cup of oregano leaves on top and pour in liquid mixture. Smooth it out. Sprinkle about another 1/4 cup of oregano leaves on top.
Bake at 325 for about 25 -35 minutes until the custard sets and it is a little brown/golden on top.
When cool, take the 'cake' out of the springform pan and spread a mixture of 1 1/4 teaspoons of Zatar and 1 tablespoon of olive oil on top and the sides.
Enjoy.