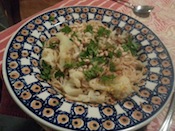 Good recipe for cauliflower and pasta. From "herbivoracious" by Michael Natkin.
Ingredients:
1 head cauliflower, broken into large florets

1/4 cup extra-virgin olive oil, plus additional for drizzling
4 garlic cloves (or more) thinly sliced
1 teaspoon fennel seeds
1/2 teaspoon hot red pepper flakes
Kosher salt
Zest and juice of 1 orange
Juice of half a lemon
3 tablespoons capers
1/4 cup raisins, plumped in hot water and drained
1 pound spaghetti
1/3 cup pine nuts, toaster
Freshly ground black pepper
Fresh parsley leaves, for garnish
Freshly grated Parmesan, for garnish
Steps:
bring a large pot of water to a boil. Add cauliflower, boil for 5 minutes, then transfer to a colander with a slotted spoon. Drain for a few minutes. Use the remaining water for cooking the spaghetti. Cauliflower is not fully tender at this point.

Heat a large skillet (preferably cast ron) over high heat. When it is hot, add the olive oil, garlic, fennel seeds, and red pepper flakes. Cook for about 20 seconds and then add the cauliflower and 3/4 teaspoon salt, toss to coat with oil. Cook, tossing occasionally, until the cauliflower is tender and developing deep brown caramelized spots. When nearly done add orange juice, half the orange zest, the lemon juice, raisins, and capers. Turn off the heat.
Cook the pasta until al dente. Drain and save one cup of the water. Toss the pasta with olive oil.
Add the pasta to the cauliflower pan. Set over medium heat and toss all together. if too dry add reserved pasta water. Raise heat to high and cook fro about a minute. Adjust seasonings if necessary.
Serve pasta cauliflower mixture in bowls. Garnish each serving with orange zest, parsley, black pepper, remaining pine nuts and cheese.
Enjoy.