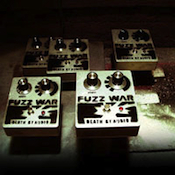 Oh yes, earplugs were probably a good idea. Oh no, I was not going to leave them in I was going to savour every note, every word, every chord, every distorted moan, every acid trip of a song and no foam was going to get in the way. I was not here for work or to socialise I was here to wallow in lavish walls of noise and breathe them in like very very pure oxygen. A strange simile to use when you take into account that the room was filled with gritty, atmospheric smoke. Three people on a stage their physical selves couldn't fill but that was straining to contain the noise they made.

"it was impossible not to be captivated and a little awed."

"Few concert conclusions have been more satisfying."