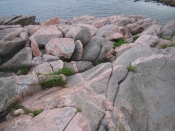 George Dyson

Historian George Dyson tells stories from the birth of the modern computer — from its 16th-century origins to the hilarious notebooks of some early computer engineers.

A Place to Bury Strangers

Then I had perhaps the biggest revelation of the festival; New York trio A Place to Bury Strangers. Noisy but melodic music in the vein of Jesus & Mary Chain and My Bloody Valentine, they blew me away completely at skull crunching volume. Great songs, great performance.

Brooklyn noise-rockers A Place To Bury Strangers have announced that they will release their debut, self-titled album in the UK on November 2 on the Rocket Girl label.