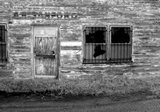 This turned out to be a good recipe. We cooked it as a pot roast, so the meat ended up being very tender and flavorful. We used a Niman Ranch pork roast form Ellwood Thompson.

A Place to Bury Strangers

Now it's all making sense after checking out this pitchfork video of the Death by Audio space…this is the guy from A place to bury strangers. That space is huge and as amazing as I thought it must be.
I bet he keeps the best sounds to himself.

Plus dense, deafening, psych-rock dirges – think The Jesus And Mary Chain turned up to 11 – from SXSW success story APTBS, allegedly 'the loudest band in NYC'.