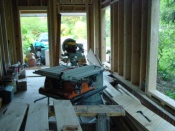 Future of the Web 

Future of World Wide Web

Skywave

While all you neu-shoegazers were still wearing Garanimals, I was scooping up Skywave seven inches without reading the price tag. Ackerman went on to help form A Place to Bury Strangers, which is alright, I guess, but Skywave had the songs. "Don't Say Slow" is not at all Skywave's only high point. Good luck finding their output – all of it was self-released, I believe — unless you live in the Fredericksburg, Va area, where they were based and didn't seem to care to leave much.

A Place to Bury Strangers

Sunday brought one of the more interesting acts to be included on the bill, Brooklyn's A Place to Bury Strangers. Self proclaimed loudest band in Brooklyn and deliverers of total sonic annihilation. I caught the band during their last visit here in Austin, and the show was a complete sensory overload complete with throbbing strobe lights, more smoke than a Dead show, and a volume rarely experienced @ a live show these days. Singer/guitarist Oliver Ackerman lead the trio through a ferocious set once again that attacked the auditory senses slowly working himself into a frenzy that resulted in broken guitar strings while slinging the axe around on stage. Sonic annihilation that was absolutely a grand closure to a great weekend of music.