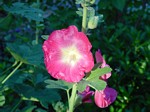 Reminiscent of the Shoegaze Era, with typhoons of static fuzzing distortion and echoes that take away all vocal clarity, 'Missing You' would sound pretty damn good if it didn't sound like it was recorded in a tin can.

During the finale, the sound reached a stage that even watching members of Dead Confederate retreated backwards. Guitarist Oliver Ackermann said nothing throughout, only stopping to give a quick wave as he left the stage. His band's music had already done the talking in fine, and extremely loud, style.

Torchbearers of contemporary noise rock, NYC's A Place to Bury Strangers blast their way back into Paris after passing through last November. Blurbs brag, 'NYC's loudest band'. Maybe, but what's important to remember for this show, besides earplugs, is that while this reverb-loving bunch is part of a fine tradition stretching from Hasil Adkins, through the Velvet Underground, Sonic Youth, My Bloody Valentine, and the Raveonettes, they are above all a colossal hommage to the Jesus and Mary Chain. Which means it's not cacophony, it's melodic noise, if you don't mind the oxymoron. Going deaf has never been so much fun.