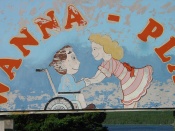 Curtis turned Edge on to an over-the-top new fuzz pedal by a company called Death by Audio, which ended up defining the grinding rhythm-guitar sound of both No Line on the Horizon and FEZ-Being Born. "No Line blew my mind — he's using that pedal in a textural way that it wasn't intended to be used at all," says Curtis. "The Edge makes the guitar seem like such a beautifully simple instrument."

Thank God for A Place To Bury Strangers' Missing You. It has 'HATE' tattooed on one hand and 'GRRR' tattooed on the other, rocks like Charles Manson swinging the J&MC and feels like being chased by Leatherface out of Texas Chain Saw Massacre. Intensely intense but oh, way cool. Single Of The Week.

The Brooklyn based trio, hold their own against such cult comparisons as heard on the intense wall of sound that makes up their self-titled debut album.