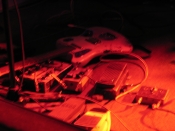 A PLACE TO BURY STRANGERS (Friday and Saturday) Perennially referred to as the "loudest band in New York," A Place to Bury Strangers, a Brooklyn trio, is sweeter and more palatable than it would like you to believe. The band's Jesus and Mary Chain-inspired shoegaze makes liberal use of effects pedals and electronics, and while its songs are certainly loud, they can also be lulling. Friday at 9:30 p.m., Music Hall of Williamsburg, 66 North Sixth Street, Brooklyn, (71…, musichallofwilliamsburg.com; $15. Saturday at 9:30 p.m., Bowery Ballroom, 6 Delancey Street, near the Bowery, Lower East Side, (21…, boweryballroom.com; $15.

When the Strangers play, not only do they rain their shrieking guitar shards down on listeners, they disorient them with blinding stabs of light. "You want to get into a zone where the listener can be enveloped," says Ackerman. "It should be wild and bewildering."

A Place To Bury Strangers are on no level a band for those with a faint-hearted disposition. But for those looking for more outside of an over-populated gene pool, tune in and brace yourself for a mutation of cut-and-dry hypnotics.

There is no doubt that 2009 will be A Place to Bury Strangers best year yet.