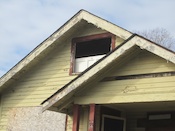 The sound of A Place To Bury Strangers owes a lot to My Bloody Valentine and The Jesus & Mary Chain. The band knows how to build a genuine wall of sound. They shoegaze when the volume is extremely high. If you want evidence of this, just visit AB and admire the cracks in the walls.

Lauded as "the loudest band in New York," A Place To Bury Strangers make the sort of beautifully brain-pounding, feedback-drenched noise that was once the forté of their most obvious influence, The Jesus And Mary Chain. No "You Trip Me Up" moments of calm here, though. A Place To Bury Strangers focuses instead on that perfect moment when the feedback wells up over the music and stretches it out into an endless wall of sound and fury. It's a matter of guitar pedals as weapons of mass destruction. Bring earplugs.

A Place To Bury Strangers, Tiny Masters Of Today and The Oh Sees have been added to the lineup for next month's Siren Music Festival in Coney Island.