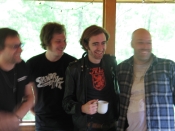 "A Place to Bury Strangers are a power trio comprised of Oliver Ackermann (guitar/vocals), Jono MOFO (bass) and Jay Space (drums). The band play a heavy, atmospheric wall of sound-influenced blend of psychedelic rock, shoegaze and space rock."

Few NYC bands can announce a show on a Sunday and be confident that it will be filled to capacity come Friday. A Place To Bury Strangers is one of them. The three piece will be releasing their sophomore record titled "Exploding Head" on October 6th under Mute Records. We had the chance to listen to an advance copy and it makes our hearts beat with a maddening rush of adrenaline.

"There are bands that definitely utilize guitar effects to amazing ways, like A Place to Bury Strangers. They push the boundaries of sound and they make their own pedals. "

video interview

Here's a little remix for A Place To Bury Strangers' "In Your Heart", the first single taken from their new album Exploding Head.