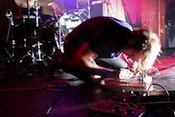 "The charismatic Ackermann is one hell of a performer, not just in terms of his notable musical talent, but also in terms of his commanding stage presence. He was one of the most dynamic stage performers I've ever seen, constantly in motion, injecting each song with intense passion."

"Here I present the first single that swirls and spits and snarls; stinging guitars denting the sidewalk like a jackhammer, while the weary, snarling vocals bring to mind the sound of early Black Rebel Motorcycle Club. Superb. "

"One of the bands at the forefront of this craze of amazing bands are A Place To Bury Strangers, dubbed as New York's loudest band these guys have gained a rapidly growing fanbase for their DIY approach and intense live performances."

"Exploding Head has that passion needed in reinvigorating a sub-genre"

"Exploding Head is a fine step forward for A Place to Bury Strangers, and shows they're among the best bands bringing shoegaze into the 21st century."

The sonically overdriven sound they've accomplished is no clumsy accident, but a carefully cultivated and well-maintained entity all of its own.

"Brooklyn's A Place to Bury Strangers deliver a wall of shoegaze noise, driven by big, aggressive guitar riffs, thunderous drumming and chunky bass playing, supported by the dark, loud vocals of singer and effects-pedal specialist, Oliver Ackermann."