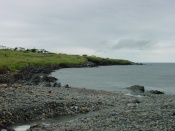 The Air Strike Tracker chronicles every reported U.S. air strike that has affected civilians since September 11, 2001. The visual interface makes information about each incident from numerous sources highly accessible, often providing the ability to view online videos and other relevant media. You can browse incidents by location, date, or tags (e.g. unmanned drones, official investigations, local protest). The Air Strike Tracker is an ongoing project, and we will continue to update the underlying data as new information is obtained.

The CIA claimed that Pelosi had been briefed in detail about the torture, and didn't make any objection until long afterward. Therefore, if there is to be any kind of sanction for torture, it should hit the top Democrat who approved it as well as members of the Republican administration who ordered it. Pelosi, though, denies having been briefed about the torture.   

Well, it turns out that Bob Graham was also supposed to have been briefed on these topics, and the CIA forwarded to him the dates of the meetings he supposedly attended. But the CIA records were inaccurate, according to his own personal records. Such was the respect for Graham's notebooks, that this line of attack was closed within 48 hours.