AND what is so rare as a day in June?
Then, if ever, come perfect days;
Then Heaven tries earth if it be in tune,
And over it softly her warm ear lays;
Whether we look, or whether we listen,
We hear life murmur, or see it glisten;
– excerpt from "THE VISION OF SIR LAUNFAL", James Russell Lowell

We have an outstanding hollyhock plant in our garden this year. It was planted last summer and bought last year at the Fredericksburg Farmers Market from a woman who raises flower plants in King George. The weather, soil, and who knows what else have combined to produce an outstanding plant. It's an old-fashioned variety with single blooms; just what we wanted.
Here are some other pics of the hollyhock.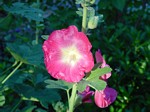 I also took a picture of a coreopsis that seems to be doing well. It was one of Lynn's pics last year at France Nursery just up the road from us.
More garden pics at http://www.flickr.com/photos/eca/sets/72157600322940776/
—
| | |
| --- | --- |
| U.S. Deaths Confirmed By The DoD: | 3493 |
| Reported U.S. Deaths Pending DoD Confirmation: | 10 |
| Total | 3503 |
Latest Coalition Fatality: Jun 06, 2007
Source: Iraqi Coalition Casualty Count