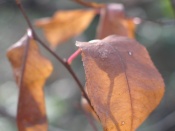 Wondering how to evaluate a newly found website for trustworthiness and credibility? Is there a pragmatic and reliable way to do it?

How do you organize the content of a new web site or blog? Do you really need to spend specific time ahead of launching to organize the content sections and hierarchy of your web site? Can't one simply identify the key content categories of his future site and be done with it?

Subtle changes in driving habits can produce significant benefits, such
as saving money at the gas pump and reducing CO2 emissions. Here are best practices for green driving:

Cholesterol is a soft, waxy substance found in all parts of the body. Your body makes some cholesterol, and some cholesterol comes from the food you eat.
A Place to Bury Strangers
They were really powerful live, and had some great hypnotic strobe lights.