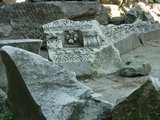 pasture cheese

A Place to Bury Strangers

I grew up listening to The Jesus and Mary Chain, Slowdive, and My Bloody Valentine. That is what really inspired me to play guitar. All of their sounds and textures made their songs so mysterious. There was this beautiful feeling of not knowing exactly what was going on. You were just hanging on to a song with no instruments. It left everything up to the imagination.

How did you get into making pedals?
Just trying to create sounds that I couldn't get in other places. I failed miserably for years and then kindda figured out how to make things work. And then I started the company because I wanted to go to Europe for a month as a vacation, but I didn't really have any money, and I had this idea for a pedal that no one else had ever come out with before, and I just kind of marketed that real quick and I made enough money to go. Total Sonic Annihilation. The flagship of Death by Audio.

Suddenly the "loudest band in NYC", were the most wanted band in London, with features in Kerrang! and NME.

If A Place to Bury Strangers were one of the presidential candidates, the hypnotic trio would be John McCain. Politics and a namesake hinting at the Maverick's imminent resting place aside, like the Straight Talk Express, this Brooklynite band tends to noisily echo the past more than strut into the future.