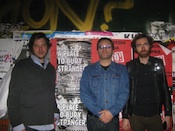 "we got frontmen Robbie Furze of the Big Pink and Oliver Ackermann of A Place to Bury Strangers on the phone together "

"It's a strange, retro-modern clip heavy on cumbersome studio equipment and mad scientist antics that seem to lend a slight nod to Thomas Dolby."

"Our featured act this week is Brooklyn based shoegaze revivalist A Place to Bury Strangers, who play The Great American Music Hall Wednesday"

"Yes they are headlining, but the show Tuesday night at the El Rey is all about New York's A Place to Bury Strangers."

"Their performance delivered more than the high marks expected. APTBS combined a stark intensity with the feedback driven sound-scapes of an art instillation; equating to an amazing show."

"APTBS' set was an endurance test. A handful of people in the front section attempted to dance with hands cupping their ears before wandering further away from the speakers. The quick press of a hand against a wall would unleash a wave of vibrations fierce enough to shake bones and there were more than a few moments when my pant legs began to dance despite the fact that I was standing still."

While the interaction may have been near minimal, the wall of melodic noise that came out from the band was spot on.