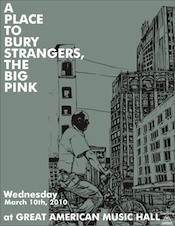 "They were pretty awesome, though. Just watching the bass player mess around on his bass and work the pedals was impressive. The sounds coming out of the guitar were monstrous. "

"This band grabbed my attention a few years back with their self-titled debut, on which they crafted industrialist noise rock in a way that is accessible and surprisingly always very listenable. For a band that relies on the abrasive, they don't neglect melody in their songs, no matter how high the decibel may be set."

This set was short- only 6 songs- but he fit the energy of one of their usual sets into this. He was more chaotic and violent than the last times I've seen him…there were times when I thought that I might get taken out by his guitar swinging around.