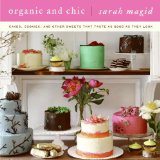 This recipe is from Organic and Chic: Cakes, Cookies, and Other Sweets That Taste as Good as They Look
by Sarah Magid. I checked the book out from the library on a whim. The shortcakes turned out to be very good, with mint from the garden, local strawberries, and some nice cream from a good dairy.
Here is the recipe I used. it has some variations from the one in the book.
For the Shortcakes:
2 cups organic whole-wheat pastry flour
1/4 cup of fair-trade, organic sugar
2 tablespoons baking powder
1/2 teaspoon salt
1 1/2 cups organic unsalted butter, chilled and cut into small chunks
1/2 cup organic buttermik or keifer
1/2 cup organic heavy cream, plus more for brushing
lemon zest from one organic lemon (about 2 teaspoons)
Organic raw sugar for sprinkling
In a food processor, pulse the flour, sugar, salt and baking powder
Add the butter a few cubes at a time, pulsing between additions. Continue to pulse if necessary  until the mixture looks like coarse meal. Put it in a large bowl and set it aside.
In a medium bowl mix the buttermilk, cream, and lemon zest. Add the liquid to the dry ingredients and stir with a fork just until a dough forms.
Turn the dough out to a floured surface and gently knead it until it comes together. Using a rolling pin or your hand, make a 3/4 inch level disk. Let the dough chill in the fridge for at least 20 minutes.
Heat the oven to 400 degrees.
For the Strawberries:
3 pints fresh or organic strawberries, hulled and quartered.
2 tablespoons thinly sliced fresh mint.
a scant 1/4 cup of sugar
1 teaspoon of fresh squeezed lemon juice.
Let the strawberries it in the fridge.
Remove the  dough from the fridge. Using a glass or a cookie cutter, cut circles/squares/hearts that are about 2-inches in diameter. Place them on a cookie sheet that has been lined with parchment paper. Brush each with cream and sprinkle with sugar. Bake about 15-18 minutes, until they are pale brown.
Whip more cream. When the shortcakes come out of the oven, put them on a rack to cool. When ready to eat cut each in half horizontally and put a layer of cream then a layer of the strawberry mixture, then more cream (if you want to) Put the top on, add more cream or strawberries as you desire.
Enjoy.