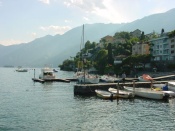 While doing some research for an upcoming book I took a look at some resources dealing with open courseware and multimedia sites that can be used for learning. I admit that I was impressed with the richness of the resources available. The 'free U' is available. This is so much better than educational TV I knew in the past as both a learner and a teacher.
This list of the best academic podcasts and webcasts is a work-in-progress. As I discover new courses and lectures,

Free access to Higher Education (HE) resources and Open Courseware (OCW)

from the Universities and Colleges of the world.

The iPod can supercharge your learning. But it's often a matter of finding the right software and content. Below, we've listed several new pieces of software that will let you suck more educational media (DVDs, web videos, audio files, etc.) into your iPod.

You can use the secret iPod Note reader (Extras > Notes on iPod) like any other PDA or an ebook reader for reading PDF, Word documents, CHM or HLP help files, driving directions, offline Webpages, blogs, email conversations, song lyrics or any other file format that can be converted to plain text.