Early this past summer Iceland Air had a sale on flights to select cities. There were some good deals for travel in the Fall. We had only three days to decide since I had heard about the sale at the end its time period of availability. We picked out some dates and I wrote to Oliver and Karl asking them if there was a conflict with any thing they might like to have us around for. I  also off-handedly mentioned that they were welcome to join us. We never took advantage of that sale but Oliver said he was up for vacationing with us! Karl was perhaps interested but the cities in the Iceland Air sale were all cities we had visited, except for one or two. I began thinking about traveling in mid-October and visiting a city where the weather had a chance of being good. Barcelona seemed like a good choice and so we decided to travel to Barcelona for two weeks from October 18 until November 1. Oliver said he and Heather would join us and Karl & Eun-Ha said they would meet up with us during our trip. Unfortunately it ended up that Heather couldn't get away.
We traveled to Barcelona leaving the evening of October 18 and arriving early in the morning of October 19. We stayed in Barcelona until Friday, October 28,  spent 3 nights in Valencia, and then the day and night of October 31 in Barcelona.
 Oliver joined us on Monday, October 24, and Karl & Eun-Ha joined us on Wednesday October 26. They all left on Friday October 28.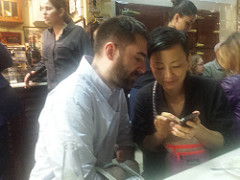 It was really nice traveling and enjoying Barcelona with them. An excellent trip all around.
Arrival
Our non-stop flight from IAD arrived at BCN on schedule,  about 7:45 am. After easily passing through immigration we found the Aeropuerto AutoBus that took us to its last stop Placa de Catalunya in downtown Barcelona. The trip cost about 5 euros per person, took about 40 minutes, with wifi on the bus.  Placa de Catalunya was about 5 or 10 minutes form our first lodging.
Where we stayed
We rented a small one bedroom apartment via AirBnB for our first seven nights. It was very conveniently located in the old city at Carrer de n' Amargos 2. A few turns off of a main street, across the street from a local cafe/bar, a few blocks from the Cathedral de Barcelona, and an easy walk to many parts of the city. The apartment was on the second floor, it was clean, and the bed was comfortable. The people who rented it to us were accommodating and helpful.  Oliver joined us for two nights at the place and when Karl & Eun-ha arrived at the Placa de Catalunya form the airport we all went back to our place to store their luggage for a bit and wash some of their clothes.
After Karl & Eun-Ha arrived we spent two nights at Hotel Andante. About 15 minute walk from our apartment. A very lovely place near Las Ramblas, La Bouqueria market, and the Para-lel metro stop. The hotels bills itself as a "responsible and sustainable hotel." I think that is accurate. The rooms were modern, quiet, clean, completely functional. The hotel has a small infinity pool on the 11th floor with spectacular views of the city. Really wonderful.
We went to Valencia for three days returning for our last night before leaving. We spent the night at Hotel Colon, a very nice hotel facing the Barcelona Cathedral.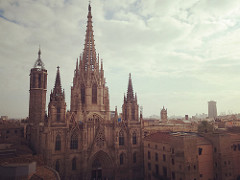 The hotel had all the accouterments and personnel representing of what you'd expect in a well-run European hotel. They also had a roof deck with great views of the cathedral.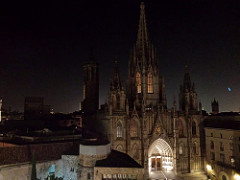 Two are posted  here.
Eating
Barcelona has a reputation for good food and dining experiences from restaurants, to neighborhood bars or cafes, to tapas bars, to the bars and stands in La Bouqueria.
Places we ate included:
Merce Vins 1982 – Right across the street from our apartment in the old city. Very comfortable, very local, very good food. We had breakfast there several days. This quote from captures its spirit. Merce Vins: Home Away from Office "Mercè Vins is exactly between two worlds, located on the quiet, narrow and dark Carrer d'Amargós, close to the shopping area of Portal de l'Àngel, near the Cathedral and Plaça de Sant Jaume, and on the border between the Barrio Gótico and Born neighborhoods, where there are numerous offices and public institutions, filled with employees looking for a breakfast that goes beyond a sad, ersatz "croissant" or for a lunch that approximates the kind of meal they would get if they were able to sneak back home."
Hofmann Pasteleria – A shop with excellent pastries and candies. The pastries were the most original I've seen and tasted.
Ciudad Contal – Tapas, breakfast, excellent selection.
Mil Gritos – Restaurant with modern, imaginative dishes.
Casa Lolela. We ate there several times. One of favorites was the orz rissoto with black truffles. WE also had Mojama de Tuna twice. Solid, good food. Well prepared. Excellent sangria. I've found the sangria for sale in Fredericksburg at the Old Towne Butcher!
Amelie. A really nice restaurant in Gracia district in a square away form the hustle/bustle of the streets. Owned and operated by our friend.