In October 2016 we visited Barcelona, Spain. Oliver, Karl and Eun-Ha joined us for a few days there. On the day they left, October 28 we took a  train to Valencia and spent 3 nights there.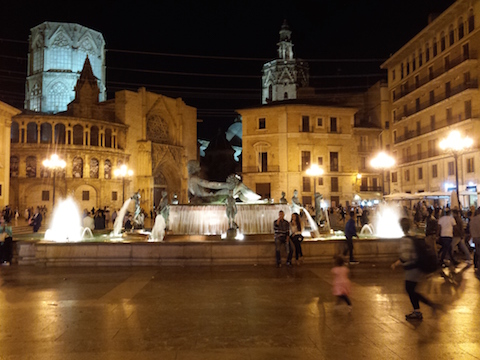 Valencia is a beautiful city.
It has a  large green space created from a riverbed. That space is filled with trails, museums, a concert hall, and places to relax.
The beach! A large public beach on the Mediterranean. Great restaurants and loads of public spaces.
We stayed at the Hotel Ad Hoc Monumental just between the old city and the green space. A great location. The hotel was clean, comfortable, and the staff was very accommodating and helpful. When I made the reservation I asked for a room with a terrace or balcony, on the advice of another traveler. We were upgraded to a 'superior' room with a terrace on the top floor. The terrace was tile with decent views and enough furniture for several people. What a nice touch! Â The clerk, Antonio, said that we got that room because we asked and that the hotel was booked and no one had reserved a superior room.
Right after arriving, about 5 minutes before the restaurant closed,  the desk clerk arranged for us to have lunch at the restaurant associated with the hotel, Boix Quatre Restaurant. 
Other places we ate wee
La Perla .. on the beach. Excellent roasted pepper and cod salad, and an excellent grilled sea bas.
Rincon 33Â … for dinner. Was OK.
A'Pergrina Restaurante Gallego .. dinner the last night. Nice, quiet setting. Galician cuisine. Good food.
We  spent one day walking from our hotel along the green space.  Along the way we visited  Palau de la Musica the concert hall of Valencia.
 Then down to the City of Arts and Sciences. Fantastic architecture, beautiful setting.   Then we walked to the beach  which was full. Lynn took off her shoes and waded into the sea. I was feeling pretty sick – cold or flu symptoms – and just walked along.  After lunch we walked to a restaurant and then eventually took a  bus back to our place. When we went to the cathedral square, a platform was set up with folk dancers. Another morning we went to the Museum of Fine Arts in Valencia, about a 10 minute walk from our hotel. Two floors of several rooms of paintings and religious artifacts primarily from Valencia and Spain. Excellent collection and display.   We had a very nice time in Valencia.
On the morning of October 31 we took a train back to Barcelona. First class with a meal included.